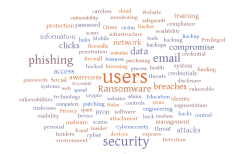 Maintaining organizational security against cyberthreats last year was a unique challenge. Cybercriminals turned up their execution a notch – targeting specific industry verticals, organizations, and even individuals. Increases in the frequency of ransomware, phishing, and cryptojacking attacks were experienced by businesses of nearly every size, vertical, and locale. Many criminal organizations now leverage the very same types of machine learning AI to help them better understand how to improve the art of their attack.
In this report, we're going to take a deep dive into the stuff of nightmares – security concerns that have organizations worried. The report will focus on six areas of concern:
• Attack Types
• Security Initiatives
• Compliance Security
• User-Related Issues
• Resource Issues
• Executive-Level Concerns
We'll dig into each area, providing insight into what parts of security have organizations lying awake in their beds, and which ones allow them to sleep soundly
---

This whitepaper is written by our partner, KnowBe4, Inc. Realizing that the human element of security was being seriously neglected, KnowBe4 was created to help organizations manage the problem of social engineering through a comprehensive new-school awareness training approach.