VETERAN-OWNED WITH CUSTOMER SERVICE AT THE HEART OF EVERYTHING WE DO.
Operating out of Illinois since 2008, RedLegg is a master provider of information security services. RedLegg is a boutique, nimble, old-fashioned customer service company that enjoys the technology battlefield. Knee-deep in the community, RedLegg enjoys crafting solutions designed to find, document, monitor, & eliminate the risks & vulnerabilities unique to your business. RedLegg's 24×7 Support Engineers are located all over the United States.
A.R.M.E.E.
METHODOLOGY
RedLegg's approach to cybersecurity consultancy is so unique, we had to name it ourselves. ARMEE (Assess, Remediate, Monitor, Educate, Enforce) applies a holistic, lifecycle approach to risk management.
Essentially – we get to know you, identify areas of risk and improvement, implement result-oriented solutions, monitor ongoing activity, and grow a long-lasting relationship.
THE REDLEGG DIFFERENCE
When you work with us, we're in the trenches together. From consulting and advising, to proactively monitoring your assets, and even battle-testing our solutions, supporting you is at the heart of everything we do.
We know that there is no one-size-fits-all solution in cybersecurity. That's why our team works to understand your business, values, assets and priorities as if they were our own. Once we get the lay of the land, we lead the charge and hold the line. We don't just strategize and problem-solve, we collaborate, mediate and innovate to ensure we continue to deliver the solutions and skills your business needs to remain secure and successful.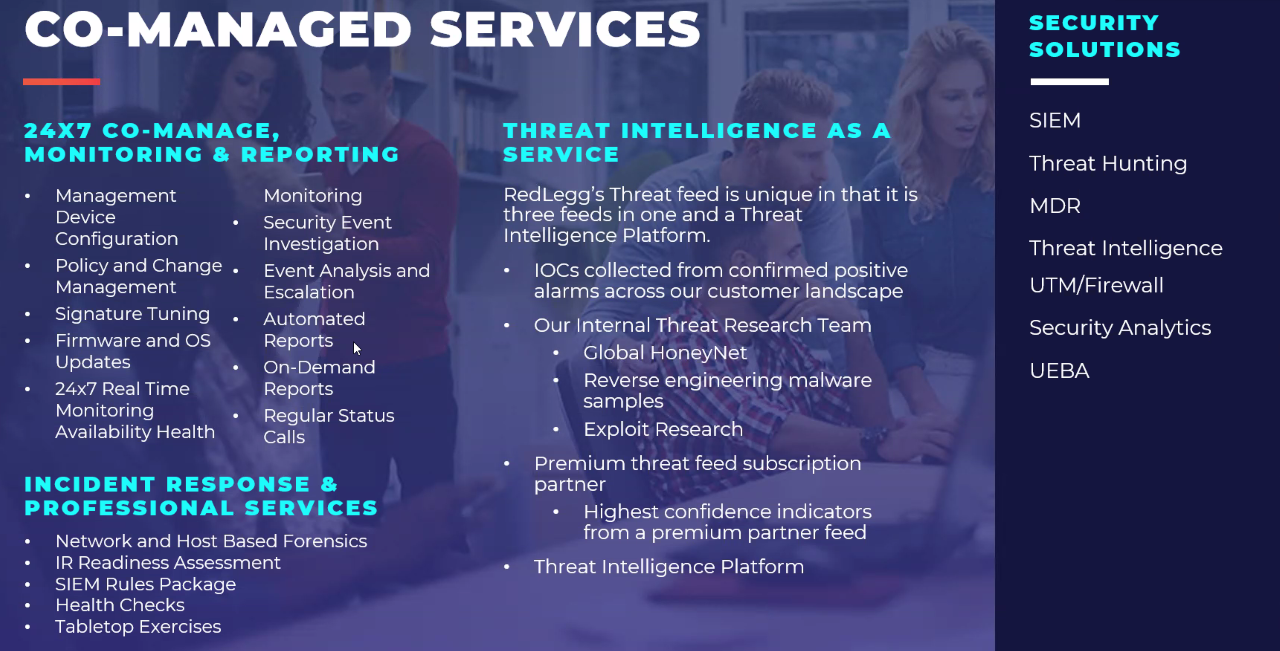 STRATEGIC SECURITY, COMPREHENSIVE ASSESSMENTS, ACTIONABLE RESULTS
RedLegg's Advisory services are built around strategic security and governance, including comprehensive assessments on operational and technical controls, as well as assessing gaps in industry-standard governance frameworks. Advisory services are often paired with vulnerability scanning or penetration testing to assess the overall security posture of an organization.
OUR ADVISORY SERVICES INCLUDE
Expertise
Use CISO-level advisors and assessors from a trusted partner to enhance your security strategy and underscore the current cyber threats faced within your vertical.
Assessment
Gain insight into many of the risks faced within your enterprise as well as the missing elements of your security needed for your governance framework.
Exercise
Reduce the impact and likelihood of a successful breach and data exfiltration through testing of your organization. Prioritize the biggest threats and strategically plan the necessary roadmap to safeguard your organization.
Operational
Show customers and stakeholders your commitment to securing and protecting their most valuable assets against various threat actors with CISO-level technical guidance.
UNLIKE ANY OTHER MSSP.
True security expertise with the caring support you've always wanted.
Custom support for security leaders.
You'll be assigned to a dedicated team committed to keeping your business secure. Backed by a team you trust and a team who knows the ins and outs of your business, you'll have the confidence to plan for the future.
Actionable, personalized communication.
It's impossible and overwhelming to treat every risk as a crisis. Prioritize and drill down to the threats specific to your unique business and get solutions in ways everyone on your team can understand.
Be empowered with the right information, in the right way.
Continuous innovation for better protection.
Partner with an MSSP who seeks out cutting-edge information and service delivery options that make life easier for you and your team. With a team that continuously refines its own procedures, you're ensured smooth-sailing service.
THOROUGH TESTING. TRANSPARENT COMMUNICATION. ACTIONABLE RESULTS.
With a proven track record of high-quality results and detailed corrective actions.
THE REDLEGG DIFFERENCE
Your unique combination of manual + automated testing.
Protect against more than technical vulnerabilities.
Checking compliance boxes is not enough. Find vulnerabilities that automated tools cannot see.
Get testing that will simulate real world attackers.
Take immediate action with detailed reporting.
The most comprehensive assessment is useless if you don't know what to do with the data. Understand the implications of your findings & get recommendations for remediation. Feel confident on your next steps.
Get transparency & consistent communication.
You do not have to be in the dark about what you pen testers are doing. Keep up to date on your pen test engagement every step of the way. And be notified about any of the severe findings that shouldn't wait until your final report.
Learn More
Discover how SecureNation can help you better protect your IT assets.